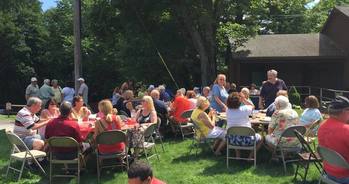 2017 Clinton Polish Picnic
Saturday, August 5, 2017, 1:00 pm - 5:00 pm
Turner Hall Pavilion
60 Branch St, Clinton, MA 01510

Polish food, raffles, kids games, historical displays about the Poles who settled inClinton, AND a Polka band - what more could you want on a summer afternoon? Dennis Polisky & Maestro's Men will perform and the dance floor will be open. Come join us for a wonderful afternoon.



---
Photos from Polish Events Around Massachusetts
Do you have photos from an event you'd like to share? Please send them to us and well post them. Let's keep our Polish heritage alive!

Boston Polish Festival 2016

Polish Festival, Boston, MA - Spring 2015

Our Lady of Czestochowa Harvest Festival, South Boston, MA - 2013

Clinton, MA Polish Festival 2016

Our Lady of Czestochowa Harvest Festival 2016

Pulaski Day Parade, Northampton, MA - 2006